Full Circle Orthopedics and Sports Medicine Introduces Cutting-Edge Shockwave Therapy with PiezoWave2 in Phoenix, AZ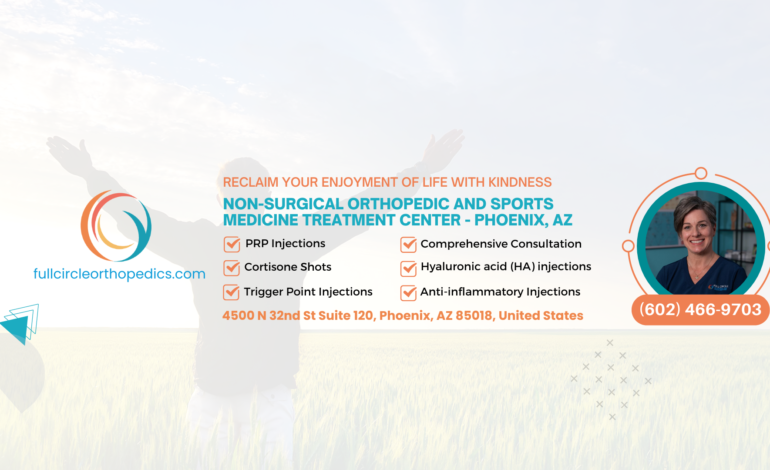 Phoenix, AZ – In a significant stride towards enhancing patient care, Full Circle Orthopedics and Sports Medicine proudly announces the inclusion of state-of-the-art Shockwave Therapy using PiezoWave2 technology in its range of specialized treatments. This revolutionary addition reinforces the clinic's commitment to providing the highest quality care to patients, backed by the latest advancements in the field of orthopedics and sports medicine.
Elevating Orthopedic and Sports Injury Treatment

Full Circle Orthopedics and Sports Medicine has long been recognized as a premier destination for comprehensive orthopedic care and sports injury management. With the introduction of PiezoWave2 Shockwave Therapy, the clinic further solidified its position at the forefront of cutting-edge medical solutions. This non-invasive treatment modality offers patients many benefits, including accelerated healing, reduced pain, and enhanced mobility.
Key Advantages of PiezoWave2 Shockwave Therapy
Faster Recovery: PiezoWave2 Shockwave Therapy accelerates the body's natural healing processes by stimulating blood circulation and cellular repair mechanisms. This leads to quicker recovery times for patients, allowing them to return to active lifestyles sooner.

Pain Alleviation: Individuals dealing with chronic pain from orthopedic injuries or sports-related issues can find relief through this therapy. By targeting pain receptors and promoting the release of endorphins, patients often experience a significant reduction in pain levels.

Non-Invasive Treatment: One of the standout features of Shockwave Therapy is its non-invasive nature. This means that patients can avoid the risks and recovery associated with surgical interventions while reaping effective treatment rewards.

Improved Mobility: Restricted mobility is a common concern in orthopedic recovery. PiezoWave2's focused shockwave technology helps break down scar tissue and adhesions, leading to improved joint flexibility and range of motion.

Personalized Approach: Full Circle Orthopedics and Sports Medicine takes pride in its patient-centric approach. Each individual's treatment plan is tailored to their specific condition and needs, ensuring the best possible outcomes.
Leadership in Orthopedic Care
Full Circle Orthopedics and Sports Medicine has consistently demonstrated its dedication to advancing orthopedic care through innovation and expertise. Driven by a team of highly skilled orthopedic specialists, the clinic remains committed to staying ahead of the curve in delivering state-of-the-art treatments to its patients.
"We are thrilled to introduce PiezoWave2 Shockwave Therapy as part of our comprehensive treatment options," says Courtney Kelm, Head Orthopedic Specialist at Full Circle Orthopedics and Sports Medicine. "Our goal has always been to provide our patients with the most effective and advanced solutions available, and PiezoWave2 aligns perfectly with that mission."
Experience the Future of Orthopedics
Patients seeking cutting-edge orthopedic and sports injury treatments can now benefit from the groundbreaking PiezoWave2 Shockwave Therapy at Full Circle Orthopedics and Sports Medicine. This innovative therapy marks a significant leap forward in non-invasive, highly effective treatment options. By incorporating PiezoWave2 technology into its services, the clinic continues redefining its patients' standard of care.
For more information about Full Circle Orthopedics and Sports Medicine and their new PiezoWave2 Shockwave Therapy, please visit fullcircleorthopedics.com.
CONTACT MEDIA:
Company Name: Full Circle Orthopedics and Sports Medicine
Address: 4500 N 32nd St Suite 120, Phoenix, AZ 85018, United States
Phone: (602) 466-9703