The Difference Between Google Account, Gmail, and Google Workspace Account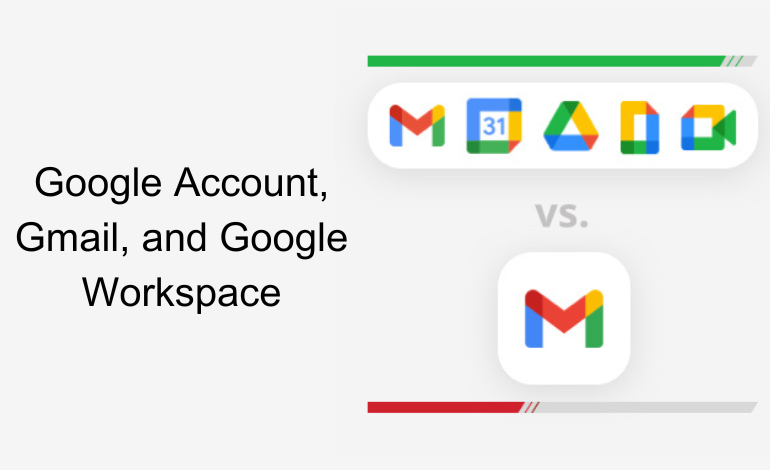 There is no doubt that Google is dominating the digital world by its facilities and features. An organization that started as a search engine is now providing multiple services to billions of people. Whenever a person requires information about anything in the world, he googles it. If you need to locate a specific place, then you can always find the exact location and direction from your place by using Google maps. In short, Google has become a household commodity for everyone. There is no escape from Google. You can check web and app development services on Google. App development is now in demand.
But it may confuse many people when it comes to differentiating between different accounts of Google. For example, Google account, Gmail, and Google Workspace are the services from the same company but these are not the same thing. There is a difference.
This post will shed light on the differences between different Google accounts. So, you must get ready for a knowledge ride. We are presenting it now.
Google Account:
You can precisely call a username and password as a Google account when it is registered in the Google database. It is not necessary to be a @Gmail account. But it can be from any email provider. A Google account provides the following services to users.
15 GB space for Google docs, sheets, and slides.
Users can save search results and queries.
15 GB space on Google Drive for storing data.
Facility to use Google photos.
Multiple services on the Chrome browser.
Translation services
Permission to download apps from the Play store.
An account on YouTube.
Account key for Android smartphones.
Access to all applications of Google.
All the services from Google are free. Users have to pay nothing. There are many undeniable benefits of having a Google account. Many services and websites allow the membership of a free account on the portals if you have a Google account. That's why an account with Google is a must for an internet user. Otherwise, things can be hectic at various websites if you do not have a Google account. Web and app development services always require a Google account. Most of the app development is Android based.
Gmail Account:
A Gmail account is an email account with Gmail.com. It is also a Google account. Back in 2004 when Gmail appeared on the scene, an invitation was required to open a Gmail account. The reason for the popularity was 1GB free space. That's why it converted many Yahoo users into Google users. This account became an accessory for everyone because it allowed users to use all applications of Google. A Gmail account holder has the following facilities.
Free 15 GB space for emails. There is virtually unlimited space for emails.
Access to Google docs, which is essential for official work. Now people rely on it to save time for storing documents.
Access to Google drive.
Access to Google photos.
Access to YouTube.
Access to the Android operating system.
Access to Play Store.
Access to virtually all apps requiring a Gmail account.
If you use it for business, then you can choose the name to reply to the mail.
Gmail is a relaxed way to have an identity on the internet. And it is the most trusted identity on the internet. Now, more features are added for smart communication. Gmail reminds you of the important emails to follow up. You can also schedule emails. But you cannot send emails to a large list of emails. For that, you have to buy a premium service. A Gmail account can be used in web and app development services to deliver files. App development becomes easy by using features of Gmail.
Google Workspace:
It is a Google account designed for organizations and businesses. And it has many editions. You can choose from Basic, Business, and Enterprise. And you can also choose a configuration such as Non-Profit, Education, and Government Organizations. Google Workspace is not like other Google accounts. A Google Workspace administrator has the following things.
Access to Gmail.
Access to Calendar.
Access to Drive
Access to photos.
Access to Hangouts.
Access to Forms
Access to Slides.
Access to Sites.
Access to Groups.
Access to all core set of apps.
Phone support.
Multiple emails under one account.
More storage space.
A Google Workspace account holder can work in the digital environment with excessive convenience. That's why organizations prefer it.
Why should you move from Gmail to Google Workspace?
We will convince you of the right reasons. And our purpose is to convert you into a Google Workspace user.
Google Workspace gives you a professional look
If you send your clients an email with a Gmail account, then you will look like an individual. But Google Workspace allows you to send emails from your domain name. and it always puts a professional image on clients whether you are the owner of a website or an app. So, you certainly want a professional image rather than an individual look. It will benefit you throughout your business career.
Easy transition from Gmail to Google Workspace
You can convert your Gmail account into Google Workspace easily. All the data from the previous account will be transferred into your new Google Workspace account. You will never have to do it manually, which will cost you time and effort.
Full control over emails
You can allow all your employees with a unique email account. Then you can monitor all their emails from your administrator account. This way you do not need to gather intelligence. All information will be at your discretion by a single click. Large organizations use this control for optimizing communication productivity.
Email data security
There is no way that your data can be compromised whether it is in any form. That's why it is considered as the safest way to transfer official work. Since its inception, there is no report of a data breach. That's why you can trust it with your business secret documents.
More storage space
A Gmail account offers you 15 GB for storage. But a Google Workspace account provides 30 GB per user. That's why it is more beneficial to use Google Workspace account
Wrap up
We have described the differences and details about Gmail, Google account, and Google Workspace account. And we have also mentioned the reasons to use the Google Workspace account. Now, you can trust our recommendation and convert it into a Google Workspace user.