Can Anyone Be A Graphic Designer?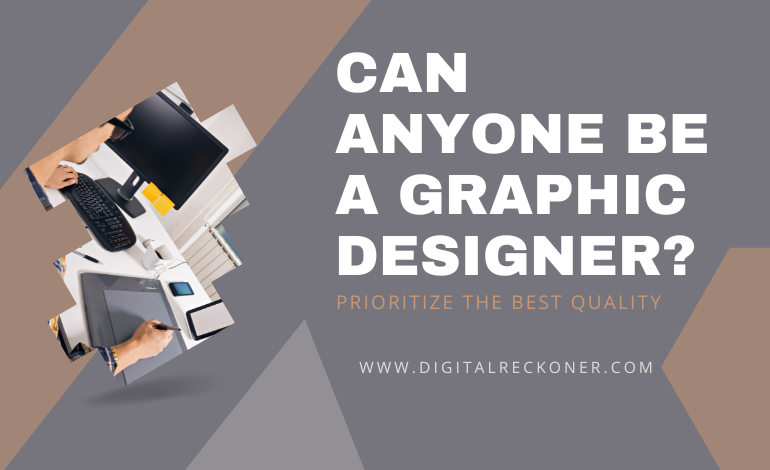 Graphic design is, in plain words, purposeful art. It may consist of photos, illustrations, symbols, etc. The following kind of design is extremely popular but demands deep knowledge, which, however, may be acquired on one's own account. The question is also in creativity, but it should be sure as a characteristic feature of personality.
If you do not have enough money, time, opportunities, and so on the best option for you is online courses that make you aware of: the main principles of graphic design and its history, making you acknowledge graphic design processes and ways of creative problem-solving. Most of the online courses are held by professional graphic designers, so they would share their experiences with you.
You can get information on graphic design through social media like YouTube and other websites like Undeemy, Adobe, etc. for designing a website. There are numerous platforms that teach online free graphic design courses and some are subscription plans. Start your learning with them.
Go through the books in design and prepare notes for yourselves in every aspect like basics of design, principles, history, and concepts like typography and more. Try to engage with the professionals in the graphic design field. You can get real examples of work from their experiences.
Carry out experiments with your thoughts in visual form. I mean just try to design anything with pens, pencils, and sketches on paper always. Practice makes you perfect. Learn from your mistakes.
Awareness of essential principles of graphic design. This will help you to have a basic understanding of the very notion of graphic design and make the so-called foundation of your knowledge in the sphere. Let yourself become comfortable with all the new terms, techniques. Understanding the fundamentals of color theory is also very important, so do not be afraid of spending much time on it. Additionally, try to differentiate typefaces and apply them in your individual design project.
Graphic design history. Yes, it is also important, but, of course, it may be a bit boring. This point is useful to consider because by looking up piles of graphic design historical facts, schools, and areas you, by chance, may find the one that would grab your attention forever and after. Moreover, while reading the history you would progressively get used to the idea, that graphic design is not that hard and way too interesting;
Understand the procedure for dealing with visual problems. Clients very rarely tell you what they want clearly, so your task is to integrate their expectations into the unique graphic design. For instance, logo design includes the identity of a company's marketing and even history. The next issue to consider is the whole design process, without understanding of which you simply cannot move forward and solve the appearing problems. Try to build your knowledge on the basis of successful real projects.
Learn and get information mainly from professional experienced graphic designers. In many cases, amateur graphic designers find inspiration from inexperienced ones and tell you some hacks and way-outs of problems occurring while designing. Do not be scared to approach them for help and use all the possibilities and perspectives.
Develop your intuition. This skill will help you in everyday workflow to save time and devote it to more difficult tasks in graphic design. If you know all the tools, programs, and focus fields then new ideas have the space to appear in your mind, which is not bothered by worries about lack of knowledge.
Be a member of online and/or professional graphic design communities. This will help you to get important contacts and clients, be aware of fresh trends in graphic design and simply find or ask for needed information from professionals. But this could be possible only if you also participate in discussions, conferences, meetings, chats, etc.
Get your hand first in freelance projects. Move from simple ones to more and more difficult to familiarize yourself with complications on the way to becoming a graphic designer.
This is easy but not perfect!!
Condition – If you have already learned and want to improve then there are a bunch of resources that I can tell you. Still, you can try to learn if you haven't learned but have got creative thinking and interest.
To be a self-taught designer, follow these points –
Very first clear your mind and what is graphic designing.
Find out the latest and trending software such as Adobe Photoshop, Illustrator, InDesign, CorelDRAW, Sketching etc.
Nothing can beat professional training so I must go for it.
When you are one with software knowledge and clear your concepts, you must go for an internship as it is the best way to work on live projects to sharpen up skills.
Read design books and understand – basic theory, design principles, typography, design aesthetics, Visual grammar, etc.
Knowledge of colors is the most important factor.
Watch video tutorials for practical knowledge as well as you can go to a few fee portals who are providing topic-wise videos.
Learn to play with pictures, illustrations, fonts, icons, etc.
Practice free design tools as well such as – Canva, GIMP, Gravit Designer, pencil etc.
To become a good designer one needs inspiration too –
When you are working on different projects, meanwhile you need to get good references and make your online presence too. You can easily get inspired by the creative and wonderful work on Behance, Dribble, Ficture, Httpster, Microcopy Inspiration, etc.
You should know the various profiles and scopes available –
Desktop publishing designer
Creative illustration artist
Advertising and marketing designer
User interface designer
Motion graphic designer
Visual identity designer
Packaging and branding designer
Outdoor designer
Freelance graphic designer (the only independent option available as a designer)
If you know about designing tools such as Adobe Photoshop, Illustrator, Dreamweaver etc. then it's good else you have to start from scratch.